The Apostolate of Eucharistic Adoration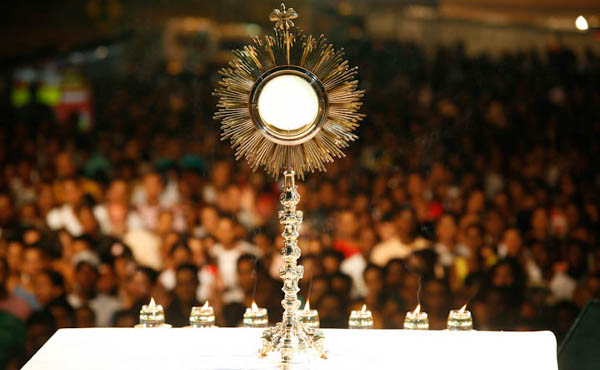 The presence recently of the Sisters of Mary Morning Star in St. Oliver's Parish was a reminder to us of the importance of Eucharistic Adoration. The Sisters express their particular charismthrough that apostolate as well as in other ways. Bishop Cullinan isalso prioritising Eucharistic Adoraton in his vision for the Diocese.
Last Saturday a number of people who regularly attend Adoration in this and other parishes went to Hotel Minella and had input from members of the National Committee for the Apostolate of Eucharistic Adoration.
This is being followed up by a Training Course at Glencomeragh for people who would be prepared to be involved in the promotion of Eucharistic Adoration in the Diocese. This course will run on Saturday mornings from 10.00 a.m. to 12.50 p.m. beginning on Saturday 1st October and finishing on Saturday 26th November.
Eucharistic Adoration is essentially spending time before the Blessed Sacrament exposed in a Monstrance. A number of people come along each hour that the Blessed Sacramant is exposed and pray silently or sometimes read from the Bible or from some other source of spiritual nourishment. Others like to pray and meditate on the mysteries of the Rosary. Each person has his/her own way of being at prayer.
Spending time in Eucharistic Adoration and inviting others to do so will bring great blessings on our families, on our parishes, and on our Diocese. The Apostolate of Eucharistic Adoration is promoted especially by members of the lay faithful and can be engaged in by people of all ages.