Our Parish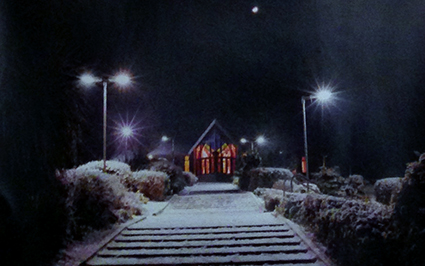 St. Oliver's Parish was founded on the first Sunday of Advent in 1983. The Parish consists of the areas that originally were in the parishes of St. Mary's Irishtown, SS Peter and Paul's and Powerstown. The priests of the parish originally resided at No. 46 Highfield Grove.
The first Masses in the parish were celebrated in St. Oliver's Primary School, Heywood Road, Clonmel. Soon, the parish aquired what was the Sports Complex in Elm Park and this was converted into a church and a community centre. St. Oliver's Parish Church was built in mid 1990's and blessed on the 1st of December 1996.
At the present time there are more than 1000 houses in St. Oliver's Parish. The Parish is young and vibrant and would regard itself as a community that is open and welcoming towards people of all ethnic origin and to people of all faiths and none.
30th Anniversary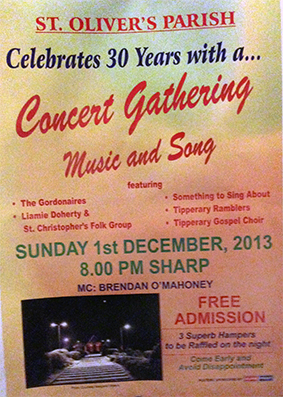 Sunday 1st December 2013
Concert Gathering, music and song
Featuring:
The Gordonaires
Something to sing about
Liamie Hoherty and St. Christopher's Folk Group
Tipperary Ramblers
Tipperary Gospel Choir
3 Superb Hampers to be raffled
MC: Brendan O'Mahoney
FREE ADMISSION